In the last 20 years I have had the opportunity to work on many exceptional projects, both in France and in the US.

Early on in my career I learned the art of creating beautiful plans and elevations thanks to my involvement in the MSRI Expansion project (Glass Associates). During the construction of the Antibes Theatre (Archidev), I saw first hand my drawings come to life, showing me the importance of well thought out detailing. Thanks to the Cité des Arts et de la Culture in Besançon (Kengo Kuma), I learned the value of team work as well as the elegance of simplicity.

My collaboration on multiple cultural projects involving theaters has sharpened my sensitivity to the acoustic properties of spaces and refined my knowledge of the rules and regulations pertaining to public buildings.

I have also worked on many smaller scale projects such as the renovation of the AFVAC offices in Paris (Archidev) , the first project that I developed using BIM, and more recently I have helped my clients in the transformation of their homes, whether it be a 400m² pavillion or a 30m² Parisian apartment.
I believe in the power of architecture to communicate and on it's important influence on our quality of life. As a natural optimist, I enjoy collaboration, and I'm sensitive to my clients needs all while approaching every design challenge with positive ambition.

Thanks to my involvement in the development and construction of dozens of projects I am able to integrate real-life parameters : budget and technical constraints as well as building codes and regulations, early into the project.

I obtained my architecture degree from California Polytechnic State University, San Luis Obispo in 2001, a university which is continuously recognized as one of the best undergraduate architecture schools in the US, in part thanks to its "unconventional disciplinary approach to problem solving". I later earned my master's degree in 2006 from the Ecole Nationale Supérieur de Paris La Villette.

Due to my diverse background, I speak fluent spanish, english and french. I am a registered architect in France (will also be registered soon in California) and created DMZ Architecture in 2019.

Diana Marquez, Architecte DE-HMONP

---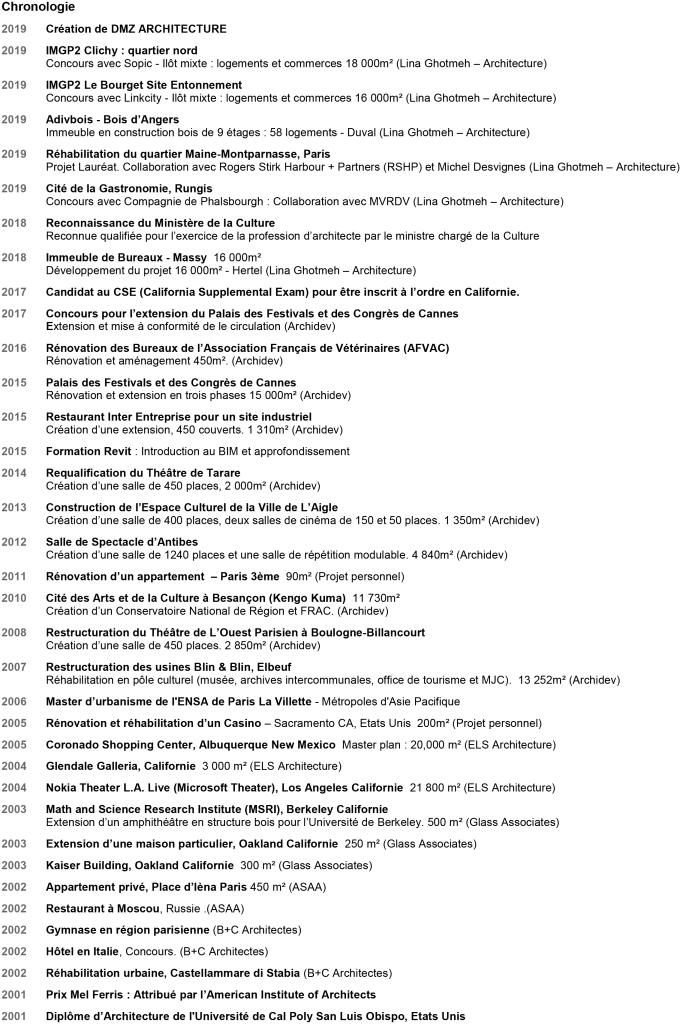 ---
Diana Marquez, Architecte DE-HMONP
(Architecte Diplômée d'Etat Habilité
à la Maîtrise d'Oeuvre au Nom Propre)
Registered at L'Ordre d'Architecture under the national number 086617.
DMZ Architecture
SAS d'Architecture – 1000€ de capital
853 864 106 R.C.S. Paris
Registered at L'Ordre d'Architecture under the national number S20937.